5+++ STARS, A MUST READ!!!!
I'll start off by saying there is no review I can write that will do this book justice. This is the love of story Caroline and Sebastian. The first they meet is when he is 8 and she's 21. Several years later they meet again when he's four months shy of his 18th birthday and Caroline is 30. When they meet again there is an instant connection that Caroline tries to fight because of their age difference and her marriage.
In the end their love was not to be denied and she gave in to their feelings. What followed is a powerful story of love, jealousy, infedelility, guilt, and passion. I was rooting for them the entire time as they were both so deserving of love. She, who is never shown any from her husband. He, who was never shown love from his abusive alcoholic parents.
This book had me:
And by the end I was an emotional wreck.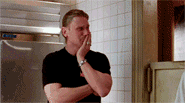 I MUST HAVE BOOK 2 NOW!!!!!!
So do yourself a favor and buy this book and read it!