This is the story of Evie Girl, Paul Guy, and Danny Boy. Evie and Paul were high school sweethearts. They broke up when Evie went away to college and Paul stayed behind because of his need or fear to always please his father. Fast forward 10 yrs later. Evie has moved back home with her life in shambles. It is here that we meet and learn that all long Danny Boy had been in love with Evie too but stepped aside so his best friend Paul could date her. He decides that this time he will have her. It's not that simple though- Paul and Danny are in a relationship of sorts, and at this point of it Paul is in denial of the true nature of it- of his feelings for Danny.To add to everything Paul is engaged to be married. He doesn't love her and is only marrying her to please his father. Soon the three are together and what is ensues is a steamy, high angst, twisted, loving story.
There were times in the story that I felt-
There were some aspects that were hard to read but the further you read you understood and accepted without judgement.
The steam factor-
The angst had me-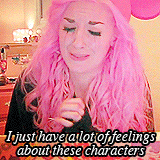 In the end this story was-
5 emotionally charged stars!